First off I will start by saying sorry I have not posted in a while , work has got me crazy busy && been trying to work things out to get back into school for the summer session :). All has been going pretty good though so I cannot complain !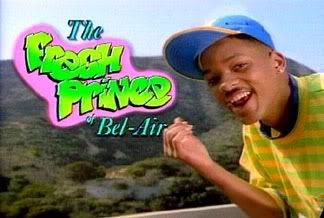 I cant sleep since I got home and napped for a while , so now im wide awake. Just seen the Fresh Prince with my little brother. Its been a while since I have watched that show. Not too long , prolly a couple months ....cus my brother watches Nick at Night every damn night .... so its either that show Family Matters or The George Lopez show. There all great , but The Fresh Prince has always been my favorite. Its like no matter how many times you watch the episode it can still make me laugh out loud LITERALLY; every single time. I used to know some dude that reminded me SOO much of Will. He had such a humor to him, and that " I know im the shit " type of swag...but he was just real cool, down to earth && had me dying of laughter all the time. But yeahh -- I love watching it, deffinately makes my day a lot better...its like you need a laugh sometimes and that just about does it for me.
But yeah -- besides work , i shopped. YES I know "HI MY NAME IS JESSICA AND IM A SHOPAHOLIC " =/ lol. I bought some products on ELF and MAC online. Also signed up to a couple magazines, cus they seriously save me while im at my desk at work, bored out of my mind. Got a couple things off ebay..gotta love the free shipping !
Im gunna go clean my room or something till I get tired and knock out ...
No work tommorow so ima go pay some bills, a little shopping (maybe..lol) and go get me a french mani/pedi. I will deffinately blog tommorow.
Show love <33
& God bless you all !